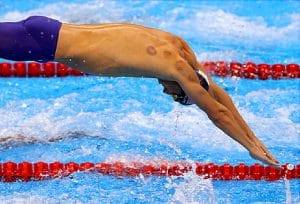 As well as inspiring the next generation of sports stars, the Rio Olympics has sparked interest in the traditional Chinese therapy of cupping. US swimmer Michael Phelps was seen with round purple spots on his shoulder and back. These weren't bruises from training hard – but cupping marks.
The British Cupping Society tells us the therapy will have helped the swimmer's muscles recover faster from training and races.
What is cupping?
Cupping is claimed to improve flexibility and range of movement, and also to help muscle recovery after exertion.
As well as Michael Phelps, Gwyneth Paltrow, Jennifer Aniston and Justin Bieber are celebrities who have been seen with cupping marks.
The cupping therapist places a glass cup over the affected area of skin
Suction is created inside the cup using heat, a flame or a pump.
Skin is pulled up into the cup and it stays on for a period of time – up to 20 minutes – depending on the reason for the therapy.
The sensation is said to be like being pinched.
How does it help?
No one is quite sure how it helps – or whether there's firm of evidence of it helping at all.
The British Cupping Society website says: "Cupping Therapy is an ancient medical treatment that relies upon creating a local suction to mobilise blood flow in order to promote healing."
One review of 135 cupping studies carried out in 2012, and published in the journal PLOS ONE, found it may help a range of conditions, including back pain and shingles, especially alongside other treatments.
The study authors cautioned: "However, further rigorously designed trials on its use for other conditions are warranted."
Some critics of alternative medicine have gone even further and described cupping as "pseudoscience nonsense", "a celebrity fad", and "gibberish" with no evidence that it works any better than a placebo.
The British Acupuncture Council has some members trained in cupping. If you are interested in having cupping therapy, it advises that cupping is a specialist technique and it may not be recommended for some individuals and conditions. Cupping is a complementary therapy and such treatments are not regulated in the same way as mainstream healthcare. Always make sure the therapist is appropriately trained in the technique and a member of a specialist organisation.
Ancient therapy in modern day sport
We asked Dr Kaleem Ullah Rajput, an associate professor of integrated Medicine and general secretary of the British Cupping Society about the latest interest in cupping in Rio – and whether it can help give athletes the edge for a medal.
He tells us by email: "Cupping therapy use in sports medicine was first brought to our screens in the Beijing and London Olympics. Pictures of Michael Phelps with cupping therapy marks on his torso has once again grasped the world's attention to this ancient medical practice.
Ancient therapy in modern day sport continued…
"The fact that elite athletes are resorting to cupping therapy despite having access to the most modern training and treatment facilities is fascinating."
He thinks this is how cupping helps in top class sport: "Elite athletes undergo rigorous training daily. They need treatment methods which can help them recover more quickly and perform better. A fundamental determinent of fitness is the ability of the body to recover from exertion, i.e. the rate at which lactic acid can be removed and stressed tissue re-oxygenated.
"Cupping therapy is a technique which can contribute to that requirement effectively and rapidly. In the case of Michael Phelps, of course cupping therapy will have assisted his performance by allowing better and more rapid recovery from training and events.
"In addition, as a procedure, cupping therapy is very flexible and by using massage oils it can be used to treat muscle spasm and post exercise soreness. Given the draining schedule Michael Phelps has this fortnight, cupping therapy provides a safe, simple and effective option to deal with his demands.
He admits more research is needed to prove the benefits of cupping: "Although a number of clinical trials (including randomised controlled trials) have investigated the effects of cupping therapy for a number of conditions and shown effectiveness, rigorous research into the effects of cupping therapy is lacking."
Dr Kaleem Ullah Rajput is currently involved in cupping therapy research trials and supervising some other research.
Editor's note: This article was updated after publication to include comments from the British Cupping Society.
By Tim Locke
WebMD UK Health News
Medically Reviewed by Dr Keith David Barnard
SOURCES:
British Cupping Society
WebMD Blogs: What is Cupping? Why is Michael Phelps Doing It?
PLOS ONE: An Updated Review of the Efficacy of Cupping Therapy
British Acupuncture Council
Original text: http://www.webmd.boots.com/fitness-exercise/news/20160809/olympians-cupping